DAM:

SIRE:
THE PUPPIES
5 puppies born February 18, 2014.
3 correct males (all blacknosed), 2 correct females (1 livernosed, 1 blacknosed). All correct ridges. No Dermoid Sinus, no color faults, no kinked tails, white within standard.
One male put to sleep at 2 weeks of age due to megaesophagus.
Name
Sex
HD
ED
Results / Other
Wayosi Been Caught Stealing ~ BUDDY

Male

A/A
0/0
Cryptorchid, one testicle descended. Possibly mild atopic dermatitis, but not confirmed or in need of treatment. BPH.
Wayosi Baby Can't Drive ~ NIXON

Male

A/A
0/0
Very good. NKK's obedience mark in bronze, RL1, MT, BPH. Sired 2 litters.
Wayosi Busy Beeing Fabolous (l) ~ BISSY

Female

† 25.03.2015. Put to sleep due to intervertebral disk protrusion between L7 and S1.
Wayosi Beautiful Monster ~ FIA

Female

A/A
0/0
NKK's obedience mark in bronze, MT, BPH. Castrated.

(BPH: behavior and personality test MT: mentality test RL1: Rally Obedience diploma class 1)
MENTALITY
2 dogs has done MT (mentality test) at 16 months, 3 has done BPH (behavioir and personality test) at 27 months of age. They are all social and kind to people and have very good nerves.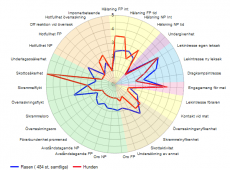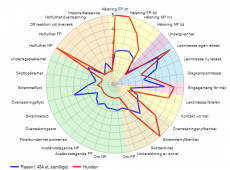 PEDIGREE B-LITTER
Inbreeding on 6 generations: 0,29 %. See 6 generations pedigree
here
.
Download 4 generations pedigree for the litter in PDF
here
.
Sire

Inanda Mellberg Athol Aramis By U

MULTICH INTCH DEVDHCH CHCH

Glenaffric Ulanyo of Zuritamu

RSACH

Usakose The Boy From Oz At Roodedraai

AUST CH

Caprivi Gun O Mfumo

AUST CH

Usakose Town Temtress

RSACH

Entle Neliswa Of Glenaffric

Roodedraai Metzimetzi

Chibuluma Bongayo Of Entle

SVCH

Inanda Mellberg Fleur de Cap

BECH DECH INTCH LUCH VDHCH

Heshima Ya Kimba Energy of Red

USA CH

Karoskloof Bayezana Naka

CH

Heshima Ya Kimba Chakanyuka

Lionesque Clementine

ZACH ZWCH

Rekaylahn Jabulisa Of Clachan

Clachan Aleca

Dam

S N UCH

Tappinskis Peach and Passion

INTCH NORD FIN N S DK EE UCH
Mankoyas Great Gambo

FI V-00 FI UCH WW-00 US CH
Ikimba Shadyridge Okoa

ZA CH
Apalachee Umquolo Of Pronkberg

Dahari Dafina

NORD UCH
Mankoya's Claudia

SE UCH NO UCH
Dark Red Dreams Fudo-Daruma

SE UCH
Parih's Eileen-Phoébe

Tappinskis Obax Onaedo

SE UCH NO UCH
Amageba's Ekevu Shangi

DK UCH NO UCH
Caraen Afri Shaman

NO UCH
Amageba's Aziwa N'Kosanyana

SE UCH
Oppigården's Lysa

SE UCH
Alfalyans Ensån Lever (l)

SE VCH SE UCH
Oppigården's Endast Elin