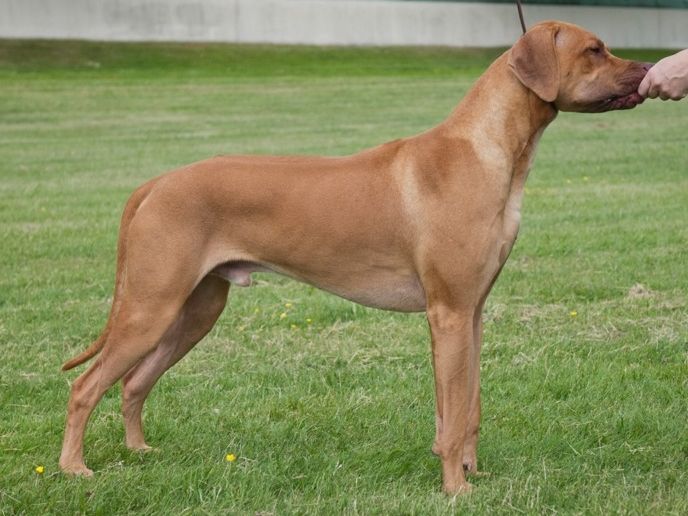 DATA
Born in a litter of 11 puppies. 3 males (1 livernosed), 8 females (5 livernosed). 2 kinked tails, 1 ridgefault. No DS or other faults.
More info about the litter
here
.
Breed: Rhodesian Ridgeback
Born: 24/4-2013
Reg.nr:
Hips: A/A
Elbows: 0/0
Height: 70 cm
Weight: 46 kg
Available for stud to suitable and approved bitches.
PHOTOS
See mixed photos of Kiiro and his siblings
here
.
ACHIEVEMENTS
CAC, CACIB, several Best Male Placements.

MENTALITY
Kiiro have done a very good mentalitydescription (MH) proving his excellent mentality. He is a very balanced male in every possible way and is a excellent ambassador for the breed.
HEALTH
Kiiro is very healthy and haven't had any health issues.
PEDIGREE
Innbreeding: 1,6%
Sire N UCH LP1 LP2 BH

Kuzonga's Cheriff

INTCH NORD FINCH

Masithela's Irresistible Chango

INTCH NORDCH FIN LUXCH KBHV-03

Ukukhanya Scout The Red Baron (l)

Karoskloof Bayezana Naka

Nomvuyo Tikkun

NCH DKCH NORDV-98 NV- 00

Ami Sariba

Wyndrunhr's Inyangani Jasper

Exgate's Heartbreaker Called Punky

LP1 LP2 UHP FP Hunting Choir's Issa

INTCH DCHVDH DKCH

Zeus

Torhusets Peacock Shaman

Kijasaman Chui Nyota

DKCH NORV96

Ajuz

Kitoto Azizi Bakela

Torhusets Sharon Shagreen

Ridgebow ́s Odara Of Zazazela

Hayawani Zazazela Moyo
Amukela Mambana Anzu

Wyndrunhr ́s Inyangani Jasper

Exgate ́s Heartbreaker Called Punky

Saragwe Nozipo Mwingereza

Mwenga Hentiesbaai

Mwenga melody of Saragwe

Ridgebow ́s Cajsa Of Simon
Haibas Äddy

Djungelkattens Big Box Bobby

Haibas Terrie

Lövfällan ́s Gucci

Roseridge The Duke

Lövfällans ́s Chanel