DATA

Breed: Rhodesian Ridgeback

Born: 18/2-2014

Reg.nr:

Owner: Kennel Wayosi / Tone Nyberg and Lars Løkstad – Lørenskog, Norway

Height: 59 cm Weight: 26 kg

Hips: A/A Elbows: 0/0 Eyes: TBA

LTV1 (mildly abnormal lumbosacral structure) SP0 – normal (unofficial) VA0 – normal (unofficial)

DM (SOD1): free by parentage D-locus: free by parentage
B-locus: B/b (liver nose carrier)

EOAD: free by parentage

Adult (album 1)

Working

SHOWS

Photos
Fia was the smalles in the litter, weighing half of what the others did. But she showed right from the start that she was a little fighter and during the 8 weeks in the puppy-box we learned that size doesn't matter. Especially when it comes to Fia 😉 She growls and barks when she doesn't get her will, and are trotting around with an happy and unafraid attitude. We are looking forward to see what the future will bring for this little girl!
ACHIEVEMENTS
– NKK's obedience mark in bronze
MENTALITY
Despite being a small size girl, Fia doesn't put anything between. She is a happy and unafraid dog, that lives life to the fullest. She loves to train, and I hope we will see her in obedience competitions in the future, as well as other dog sports.
Mentality test (MT) october 2015, at the age of 19 months.
MT-protocol
(link)
Video
(link).
Behaviour and personality test (BPH) May 22 2016, age 27 months.
BPH protocol
,
video
.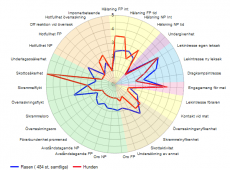 HEALTH
Fia comes from very healthy bloodlines, with a good statistic regarding HD and ED.
PEDIGREE
Sire

Inanda Mellberg Athol Aramis By U

MULTICH INTCH DEVDHCH CHCH

Glenaffric Ulanyo of Zuritamu

RSACH

Usakose The Boy From Oz At Roodedraai

AUST CH

Caprivi Gun O Mfumo

AUST CH

Usakose Town Temtress

RSACH

Entle Neliswa Of Glenaffric

Roodedraai Metzimetzi

Chibuluma Bongayo Of Entle

SVCH

Inanda Mellberg Fleur de Cap

BECH DECH INTCH LUCH VDHCH

Heshima Ya Kimba Energy of Red

USA CH

Karoskloof Bayezana Naka

CH

Heshima Ya Kimba Chakanyuka

Lionesque Clementine

ZACH ZWCH

Rekaylahn Jabulisa Of Clachan

Clachan Aleca

Dam

S N UCH

Tappinskis Peach and Passion

INTCH NORD FIN N S DK EE UCH
Mankoyas Great Gambo

FI V-00 FI UCH WW-00 US CH
Ikimba Shadyridge Okoa

ZA CH
Apalachee Umquolo Of Pronkberg

Dahari Dafina

NORD UCH
Mankoya's Claudia

SE UCH NO UCH
Dark Red Dreams Fudo-Daruma

SE UCH
Parih's Eileen-Phoébe

Tappinskis Obax Onaedo

SE UCH NO UCH
Amageba's Ekevu Shangi

DK UCH NO UCH
Caraen Afri Shaman

NO UCH
Amageba's Aziwa N'Kosanyana

SE UCH
Oppigården's Lysa

SE UCH
Alfalyans Ensån Lever (l)

SE VCH SE UCH
Oppigården's Endast Elin