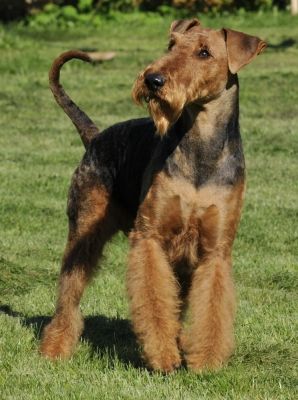 DATA

Born in a litter of 5 females and 4 males.

Breed: Airedale Terrier (working-lines)

Born: 28/7-2009

Reg.nr: VDH/KFT01/0140418
Height: 54 cm
Weight: 21 kg

Owner: Mona Hansen

Hips: A/A (free)

Elbows: 0/0 (free)

Eyes: clear (2013, 2016)
Faktor VII – deficiency: clear
Malignant Hyperthermia (MH): clear
Hyperuricosuria (HUU): clear

No allergies or other disease

Thyroid normal

Normal cardio

PHOTOS
ACHIEVMENTS
– Excellent, certificate quality and 4th Best Female at National show
– Approved Nordic working trials class D tracking
– 4 x 1.prizes in Obedience class 1 (Norway)
– 1 x 2.prize in Obedience class 2 (Sweden)
– 3 x 1.prize in Rally Obedience class 1 (Norway) – RL1
– 4 x 1.prize in Rally Obedience class 2 (Norway) – RL2
– 3 x 1.prize in Rally Obedience class 3 (Norway) – RL3
– Passed "Ferdselsprøve" (Begleithund-test) – BH
MENTALITY
Isi is the most outgoing and happy little girl. She is just such a lovely girl to have around and everyone just love her. She loves people and other dogs, and she has never shown agression what so ever! She is a true workingdog that begs us for something to do all the time. When we work she is concentrated, very eager and a very quick learner, and could be rewarded with both food and play – she loves both. She is a soft and rational female, but at the same time she could be quite strong and crazy. She is settling into any situation easily and is completely uncomplicated. She did a mentalitytest (MT) at the age of 25 months, with a excellent result, and the judges asked if she could stay with them! 😉 See
MT-protocol
and
Video
.
HEALTH
Isi comes from very healthy bloodlines. There are more or less no problems with hip dysplasia in these lines, nor allergy or other diseases.
PUPPIES
Wayosi E-litter 2015: 2 males and 4 females, more info
here
.
PEDIGREE
PG 3, IPO3, FH1
Eyk von Erikson

VPG3, IPO3, BH

Hobby von Morgenstern

Athos von haus Schirmer

Illo vom Abendster

Fee von Flaeming

Race vom Morgenstern

Poseidon's Donald

Scheffler's Fash

AD, BH, VPG2

Artemiss Finesse

Pitt von Monte Christo

Cay von den Eschen

Gitta von Dakapo

Xora vom Morgenstern

Jerry vom Morgenstern

Biggi vom Morgenstern

BH
Gismara v.d. Christinenheide

VPG 3, IPO 3, Policedog

Ilko von der Krebsförde

Kojak von der Heinrichburg

Kairo von der Heinrichsburg

Fanny von der Heinrichsburg

Caroline von der Krebsförde

Raudy von der Krebsförde

Quitta von der Krebsförde

IPO 3, VPG 3, BH, Körbericht, PLCH

Charlotte v.d. Christinenheide

Xanthos von der Heinrichburg

Nurmi von der Heinrichsburg

Hexe von der Heinrichsburg

Neele von Thekla

Donald Duck von Thekla

Emely von Thekla
---
The parents
Gsimara von der Christinenheide is the daughter of my all-time favorite Airedale, Charlotte, and the polizedog Ilko. Gismara is a sweet girl, with a lot of motor and great nerves. Gismara was living at
Christinenheide
her first years, but is now living with Roxana's sister Undina at
kennel Von de Drift
north in Germany.
Eyk von Erikson is the most winning Airedale workingdog off all times. He has particpated in the FCI WM (FCI world championship in IPO for all breeds), with a 45.place of 98 in 2006, 7.place of 108 in 2007, 18.place of 119 in 2008 and 27.place of 127 in 2009. A really great achivement, and this in competition with malinois, German Sheperds and other IPO-breeds only. Se some movies from FCI WM 2008
here
and
here
. Link to his homepage
here
.
Gismara von der Christinenheide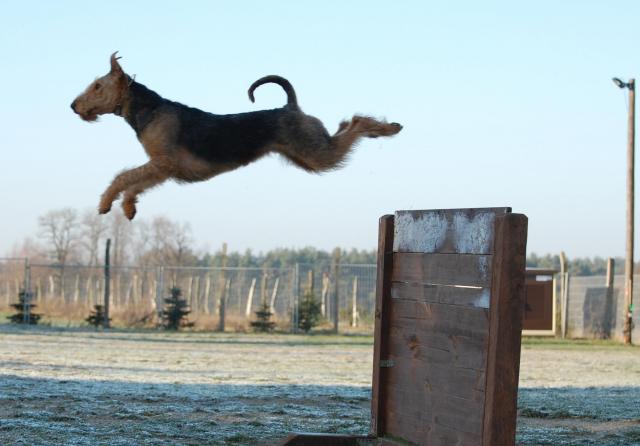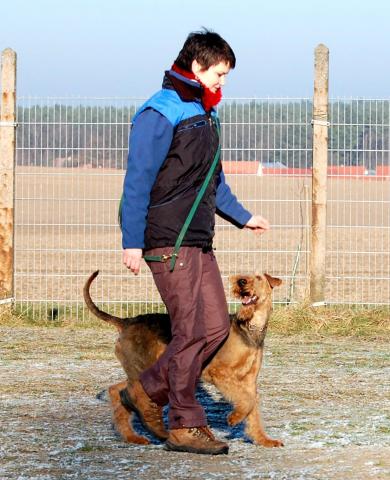 Eyk von Ericson