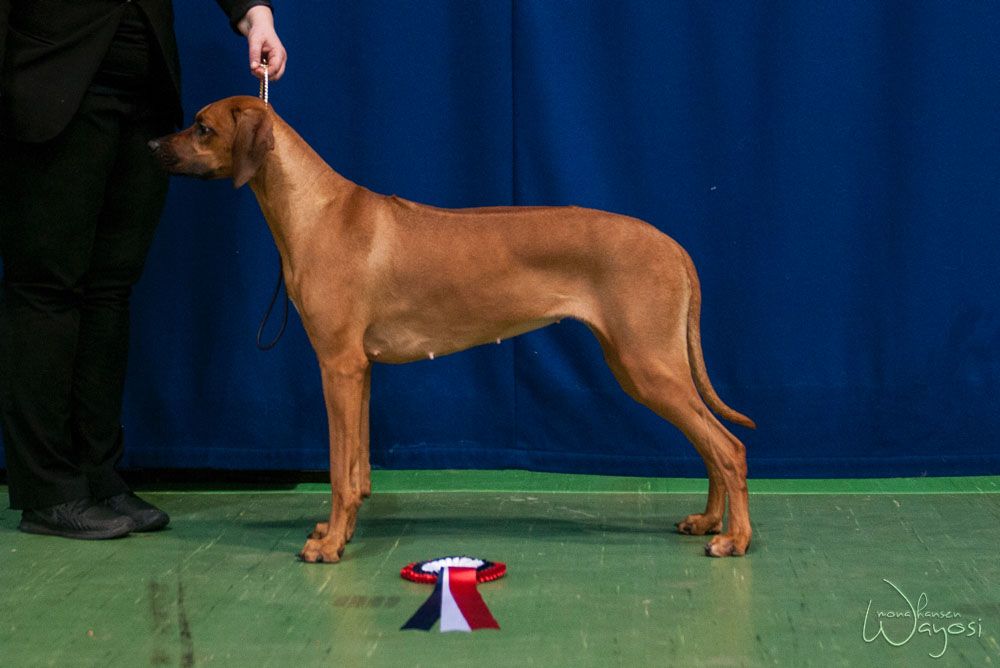 DATA

Breed: Rhodesian Ridgeback

Born: 26/6-2014

Reg.nr:

Owner: Hege S. Kvitting, Lørenskog – Norway

Height: 65 cm Weight: 32 kg
Hips: A/A Elbows: 0/0
Eyes: TBA
Degenerative Myelopathy – DM: N/N (clear by parentage)
D-locus: D/D (not carrier of the blue diluted gene – clear by parentage)
B-locus: B/B (not carrier of the livernose gene)
Early onset adult deafness – EOAD: clear by parentage (normal)

Head photos

Working

SHOWS
ACHIEVEMENTS
– Excellent, QC, CAC, Best Female 4
MENTALITY
Mentality test (MT) october 2015, at the age of 15 months.
MT-protocol
(link)
Video
(link).
Behaviour and personality test (BPH) May 22, 2016. Age 23 months.
BPH protocol
,
video
.
HEALTH
Nicki has not had any health issues, and has been a very healthy dog in any ways her whole life. She has not been to the vet for other than her routinely vaccinations.
PEDIGREE
Sire

Hayawani Sekayib Furufuru

ZA CH

Nyaka Yesekani Of Cartouche

US ZA CH

Kimani's Heir to the Throne

US CH

Bandit of Blauvelt

US CH

Kimani's Changamire Jazz

ZA CH

Cartouche Unyana

ZA CH

Shangara Sabhuku

ZA CH

Cartouche Samantha

SE VCH

Hayawani Titilayo Roozani

FINCH ESTCH ESTW-04 BALTW-05

Karoskloof B to Harjaselan

ZA CH

Pronkberg Timba

ZA CH

Nomvuyo Zuru Thandi of Karoskloof

SUCH NUCH

Hayawani Zerafina Moyo

Amukela Mambana Anzu

Saragwe Nozipo Mwingereza

Dam

RLD N

Wayosi A Kind Of Magic

N UCH LP1 LP2 BH NVV-13

Kuzonga's Cheriff

INTCH FINCH NORDCH NV-05

Masithela's Irresistable Chango

INTCH FINCH NORDCH FCH BISS NV-01 NV-02
Ukukhanya Scout The Red Baron

NUCH DKCH NORDV-98 NV-00
Ami Sariba

LP1 LP2 UHP FP RB

Hunting Choirs Issa

INTCH DCHVDH DKCH
Zeus

DKCH NORV96
Ajuz

S N UCH

Tappinskis Peach and Passion

INTCH NORD FIN N S DK EE UCH
Mankoyas Great Gambo

FI V-00 FI UCH WW-00 US CH
Ikimba Shadyridge Okoa

NORD UCH
Mankoya's Claudia

Tappinskis Obax Onaedo

SE UCH NO UCH
Amageba's Ekevu Shangi

SE UCH
Oppigården's Lysa