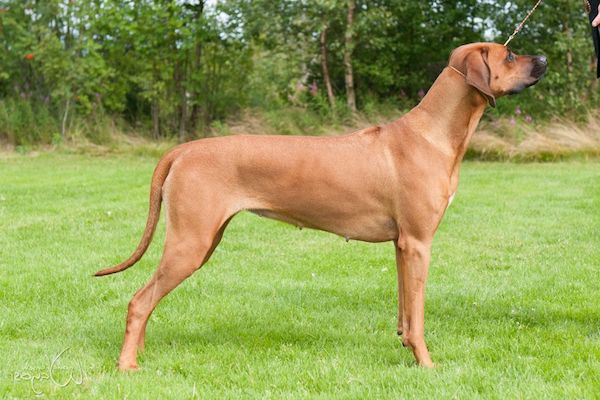 DAM
WAYOSI CHATTAHOOCHEE ~ NINJA
Born: June 26, 2014
Height: 64 cm Weight: 33 kg
Hips: A/A (clear) Elbows: 0/0 (clear)
LTV (Lumbosacral Transitional Vertebra): 0 (normal)
VA (Vertebral Anomaly): 0 (normal)
SP (Spondylosis): 0 (clear)
Eyes: ECVO clear (October 2015)
Teeth: Correct bite, 1 x P1 (405) not visible
Ridge: R/r (heterozygote)
Thyroid (TT4, FT4, TSH, TgAA): normal (February 2017)
DM (Degenerative Myelopathy – SOD1): N/N (clear by parentage)
D-locus: D/D (clear)
B-locus: B/b (carrier of the livernose gene)
EOAD (Early onset adult deafness): clear by parentage
JME (Juvenile Myoclonic Epilepsy): clear
RR IVA (Rhodesian Ridgeback Inherited Arrhythmia genetic test 2016): Positive (homozygous)
24 hour Holter EKG: negative (2017)
HUU (Hyperuricosuria): clear
MH (Malignant Hyperthermia): clear
Factor IX Deficiency (Haemophilia B): clear
Factor VII Deficiency: clear
Mentality test (MT), Behavior and personality test (BPH)
BH (Begleithund test)
RL1 (Rally Obedience diploma class 1)
RL2 (Rally Obedience diploma class 2)
SIRE
ZURIMAHALI FUMO RED ~ FUMO
Height: 63,5 cm Weight: 34 kg
Hips: A/A (clear) Elbows: 0/0 (clear) OCD: clear
LTV (Lumbosacral Transitional Vertebra): 0 (normal)
SP (Spondylosis): 0 (clear)
Teeth: Correct and complete bite
Ridge: R/R (homozygote)
D-locus: D/D (clear)
B-locus: b/b (livernose)
JME (Juvenile Myoclonic Epilepsy): clear
RR IVA (Rhodesian Ridgeback Inherited Arrhythmia genetic test 2016): Negative
ZZP: Zuchtzulassung / Breeding test – RRCÖ
OUR REQUIREMENTS FOR PUPPY BUYERS
When we sell a puppy, we feel that we are selling something of ourselves. We have taken care of them for 4 months, through conception to birth and parenting. It is therefore very important to us that we know the puppy will have a a good, active and permanent home in it's new family. We require that you give your dog a good and loving home, where it becomes a part of the family.
Rhodesian Ridgeback is a very versatile breed that loves to be active. We want to ensure that our puppies come to caring and loving home, who takes care of them and give them everything they need such as time and love, veterinary care, quality food, physical and mental training, attend puppy courses and further training. It is very important that our buyers have thought long and well on the responsibility it is to own and care for a dog. We expect that you set aside time for your puppy in the beginning. Before being left home alone for long periods, the puppy should become known in it's new home, be houscleen and feel safe. You must have the opportunity to take a holiday or to have the opportunity to have your puppy with you at work for the first periode. For the next few months the puppy should not be alone for a long time and you need to find solutions for this if you can't stay home or bring the puppy to work.
The puppy must be socialized and trained so that it will learn to work as a family dog, and the owners must learn to handle the working capacity and self assureness in the dog. We demand that the new owners attend puppy classes and preferably advanced courses with the dog. This has to do with both the socialization with other dogs and people, and that dog and owner gets a good starting point for a good working relationship and happy everyday life.
You must be able to give your dog quality food, veterinary care when needed, vaccination and insurance. We also require your dog to bee HD and ED x-rayed between 12 and 20 months. We also require that you attend dog mentality assessment, arranged by us, when the dog is between 16 to 24 months old.
Our puppies are raised in the family. The puppies are raised inside our house, and are disposed to all the sounds, smells and impressions from a normal home. We also take our puppies in the car when they are old enough, visit other places, and let them get to know other environments than our home. We have many visitors as the puppies grow up, so that the puppies are social and loves people. They are handled a lot by us to learn that it's OK to be turned on their back, picked up, having their claws cut etc etc. They will also meet children and cats, horses and other dogs. We play a lot with the puppies, giving them an interest for playing, grabbing and fetching. This would give the new owners a good start regarding obedience-training, and also in a hunting situation were the dog has learned on a early stage that it is fun to retrieve. So many important lessons are learned at this age, and we do our outmost to give the puppy the absolutely best start of life, before going to their new homes. The work the breeder does in this period is extremely important for your puppy and its further life. We do our best to give your puppy the very best start in life, before it arrives at it's new home.
IF YOU ARE INTERESTED IN A PUPPY FROM THIS LITTER, PLEASE CONTACT US!
We breed carefully and always follow the Norwegian Kennel Club ethical ground rules for breeding and Norwegian Rhodesian Ridgeback Clubs rules for breeding. This means that we breed only healthy dogs with no known disease, which has also been rewarded with a minimum of 2 x Excellent on shows.
Send us an email with some information about yourself (and other family members if any) and why you want a Rhodesian Ridgeback. We would like to know if you want to use your dog to something special, such as hunting or other dog sports, or if you just want a family dog.

Contact us by mail: mona(a)wayosi.no or by telephone +47 95 83 85 87.
WHEN YOU BUY A PUPPY FROM US, YOU ALWAYS GET
– Pedigree and registration papers from the Norwegian Kennel Club (NKK)
– Purchase Contract
– The puppy has been wormed and vaccines according to the recommendations, the identification mark with a chip and has a health certificate.
– The puppy is insured in Agria against hidden defects.
– Food for the first few days at home and a blanket with the smell of mother and litter siblings
– Puppy Meetings
– Life-long support from us with the opportunity to attend puppy classes, obedience courses and other courses that I have.
We wil wright in the purchase contract that we require the dog to have HD and ED-x-rays when it is about 16 months, and that you set aside time in 2016 to attend dog mentality assessment (MH) or behaviour and personality test (BPH) at " Arvika Brukshundklubb" in Sweden. It is important for us as breeders that you implement this, as this is a measure of how the combination has turned out and with a view to further breeding-plans. In addition you as an owner will have great value to see how your dogs handle different situations presented to it, and learn more about the mentality that your dog possesses.
PEDIGREE
In-breeding 0% on 5 generations.
Sire

Zurimahali Fumo Red

Amazing Little Shane of Ekongo Kaross

LCH
Shane
Mike
Soroya
Crownwood Tunja
Glenaholm Jolly Jack
Millridge Schumba of Crownwood
ÖCH
Makena

Multi CH
Makao Ngumo Namdi
Crownwood Foegiele
Tsvetik Ritsa Masteritsa
Multi CH
Nikole
Ezop
Trudi
Dam

BH RL1 RL2
Wayosi Chattahoochee

SEUCH SEVCH
Hayawani Sekayib Furufuru

SA CH
Nyaka Yesekani of Cartouche

Kimani's Heir to the Throne
Cartouche Unyana
SE VCH
Hayawani Titilayo Roozani
Karoskloof B to Harjaselan
Hayawani Zerafina Moyo

SEVCH RLDN RLDF LP1
Wayosi A Kind Of Magic

NUCH LP1 LP2 BH NVV-13 NVV-14 RL1
Kuzonga's Cheriff
Masithela's Irresistable Chango
Hunting Choirs Issa

SEUCH NUCH
Tappinskis Peach And Passion

Mankoyas Great Gambo
Tappinskis Obax Onaedo