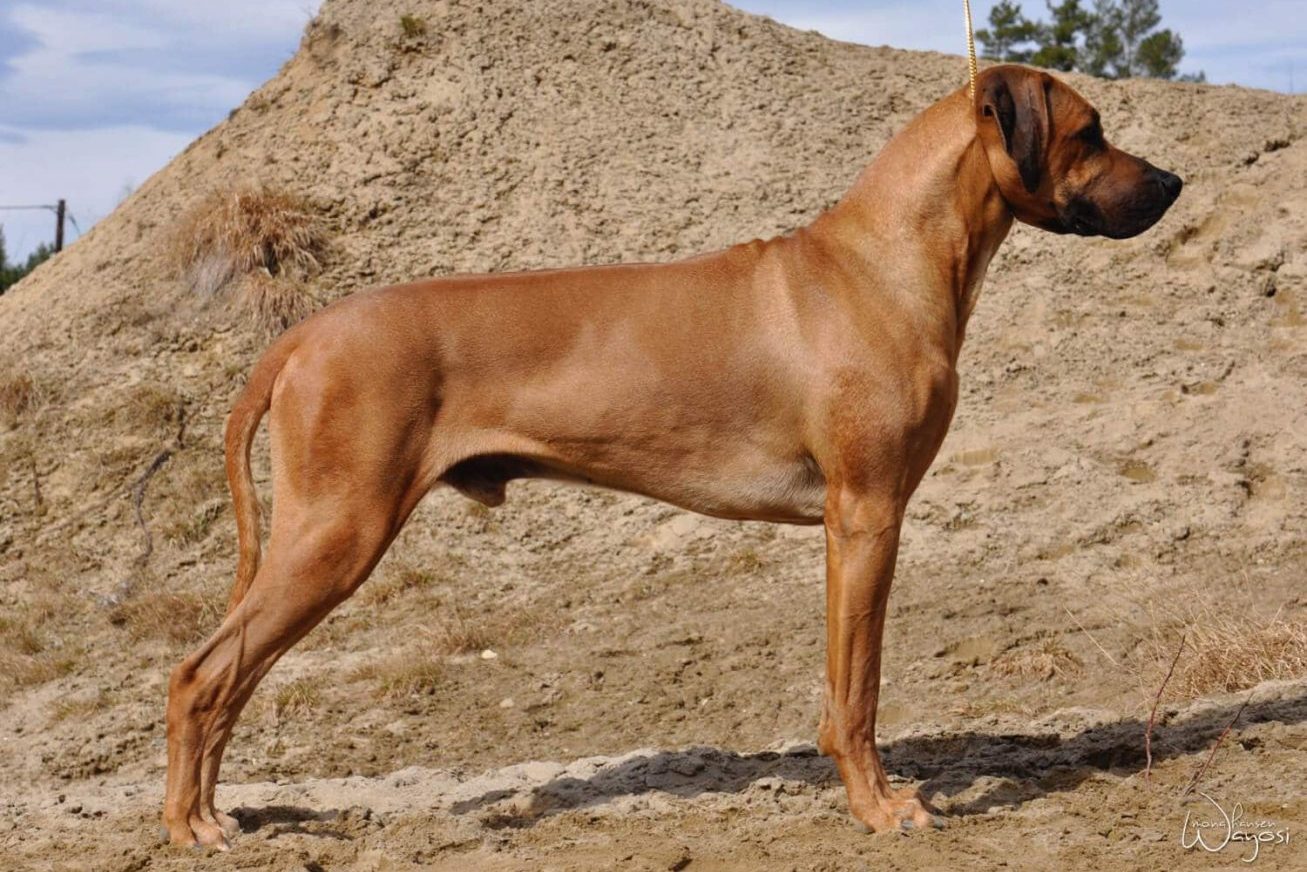 DATA
Import from kennel Kuzonga, Denmark.
Born in a litter of 5 males and 4 females.
Only 1 ridgefault in the litter, no DS, no kinked tails or other faults.
Breed: Rhodesian Ridgeback
☼ June 26, 2005
† October 25, 2018
Passed away due to tumor on the aorta.
Reg.nr: DK15004/2005
Owner: Mona Hansen (kennel Wayosi)
Height: 68 cm Weight: 40 kg
Hips: A/A | Elbows: 0/0
LTV (Lumbosacral Transitional Vertebra): LTV0 (normal)
VA (Vertebral Anomaly): VA0 (normal)
SP (Spondylosis): SP0 (SP1 – mild spondyloses at the age of 10,5 years)
Teeth: Correct and full bite | Eyes: ECVO clear
Ridge gene: R/R (homozygous)
Thyroid (TT4, FT4, TSH, TgAA): normal (2011)
DM (Degenerative Myelopathy – SOD1): N/N (clear by parentage)
D-locus: D/D (clear by parentage) | B-locus: B/b (carrier of the livernose gene)
EOAD (Early onset adult deafness): N/N (clear) | JME (Juvenile Myoclonic Epilepsy): N/N (clear)
RR IVA (Rhodesian Ridgeback Inherited Arrhythmia genetic test 2016): N/N (clear)
HUU (Hyperuricosuria): clear | MH (Malignant Hyperthermia): clear
Factor IX Deficiency (Haemophilia B): clear | Factor VII Deficiency: clear
⭐️ All good things must come to an end ⭐️
26.06.2005 – 25.10.2018
Like a whirl wind he came into our life, and kept stirring it up to the very last moment. 4870 days I would never be without. He was my pride and joy, my headache and my everything in between. Together we made memories and friends, and thanks to him I learned what matters. Because of him I will continue reaching for what matters. Sheriff was the living example of what matters, in his full glory and imperfection.
The S in Wayosi. Thank you for being the best teacher a girl could ever wish for.
ACHIEVEMENTS
Norwegian show champion (NUCH)
CACIB, Several CC's and BOB/BOS placements.
Shown with his offspring in progeny-class with 1.prize and honorsprize
Number 17 on the Norwegian top-winning showdog list in 2006
Number 7 on the Norwegian top-winning showdog list in 2007
Number 11 on the Norwegian top-winning showdog list in 2009
6th best male at the Swedish specialityshow 2008
10th best male at the Swedish specialityshow 2009
Norwegian Veteran Winner 2013
Norwegian Veteran Winner 2014
Passed class D tracking in Nordic working trials
Passed class D searching in Nordic working trials
Approved class C tracking in Nordic working trials
Thorough class C search in Nordic working trials
1.prize obedience 1 (Norway)
1.prize obedience 1 (Denmark) – LP1
2.prize in obedience 2 (Norway)
2.prize in obedience 2 (Sweden)
1.prize in obedience 2 (Denmark) – LP2
1.prize in rally obedience 1 (Norway) – RL1
Passed "Ferdselsprøve" (Begleithund-test) – BH
1.prize in ordinary fieldtracking test
1.prize in Rally Obedience beginners class (Norway)
Bronzemark in agility
Passed trackingtest class B in Norwegian Search and Rescue dogs
Mentality test (MT) with excellent results
Dog mentality assessment (MH) with excellent results
MENTALITY
Mentality tested, known mental status. He did a mentalitydescription /mentality assessment at the age of 21 months (MH) and a more extensive mentalitytest at the age of 5 years (MT).
MH-protocol
(swedish – link),
MH-protocol
(english – link).
MT-protocoll
(swedish – link)
Video
(link)
Pictures
(link)
These tests told us that Sheriff was totally unafraid with no remaining fears. He had a very good balance between courage, nervconstruction and curiosity. He was also social and he liked people, he was very playful and had a high interest to run after moving objects.
Sheriff was a very impulsive dogs, who loved to train and use his head. He was a very quick learner and was very easily trained. He liked to retrieve and carry things around and had strong instincts for baying a prey.
In everyday life, Sheriff was easy to work with, he was happy to play but he had the strong minded temper of a true Ridgeback, making him sometimes unpredictable in the obedience ring. But he made a alot of people laugh around the obedience rings during our years together, and he loved to be the center of attention. Sheriff was a versatile dog, and we tried literally everything there is to try. We trained agility, nordic working trials (tracking and searching), rescuedog, rally obedience, obedience, fieldtracking and Sheriff was also the first Ridgeback in Norway gaining the BH-title (obedience-, behaviour- and shooting-test).
HEALTH
Sheriff was a very healthy dog his whole life. Before the age of 10 years he never needed any veterinary care except from vaccinations etc, but when he was almost 10 years he had to undergo a
splenectomy
due to a bleeding hematoma. He recovered without any problems, and 6 months later he had a
gastric torsion
, in which the missing spleen probaby was a trigger to. He recovered without problems from this as well, and right up to 13 years of age he didn't have any other problems what so ever.
The summer when he turned 13 years we noticed that he had some issues with his rear, and found that he had calcifications in his back, not unexpected for a dog of his age. Even if we thought that it would be his back who eventually would get the hold of him, he suddently became ill one day and we found that he had a tumor on his aorta, leading to sirculatory failure. There was nothing else to do, and he got to take his last breath October 25, 2018.
LITTERS
Frozen semen available only for our own use in the future.
Sheriff has sired 8 litters. Sheriff is carrier of the livernose gene, and has not given ridgeless or DS. Please contact me for more info regarding his offspring.