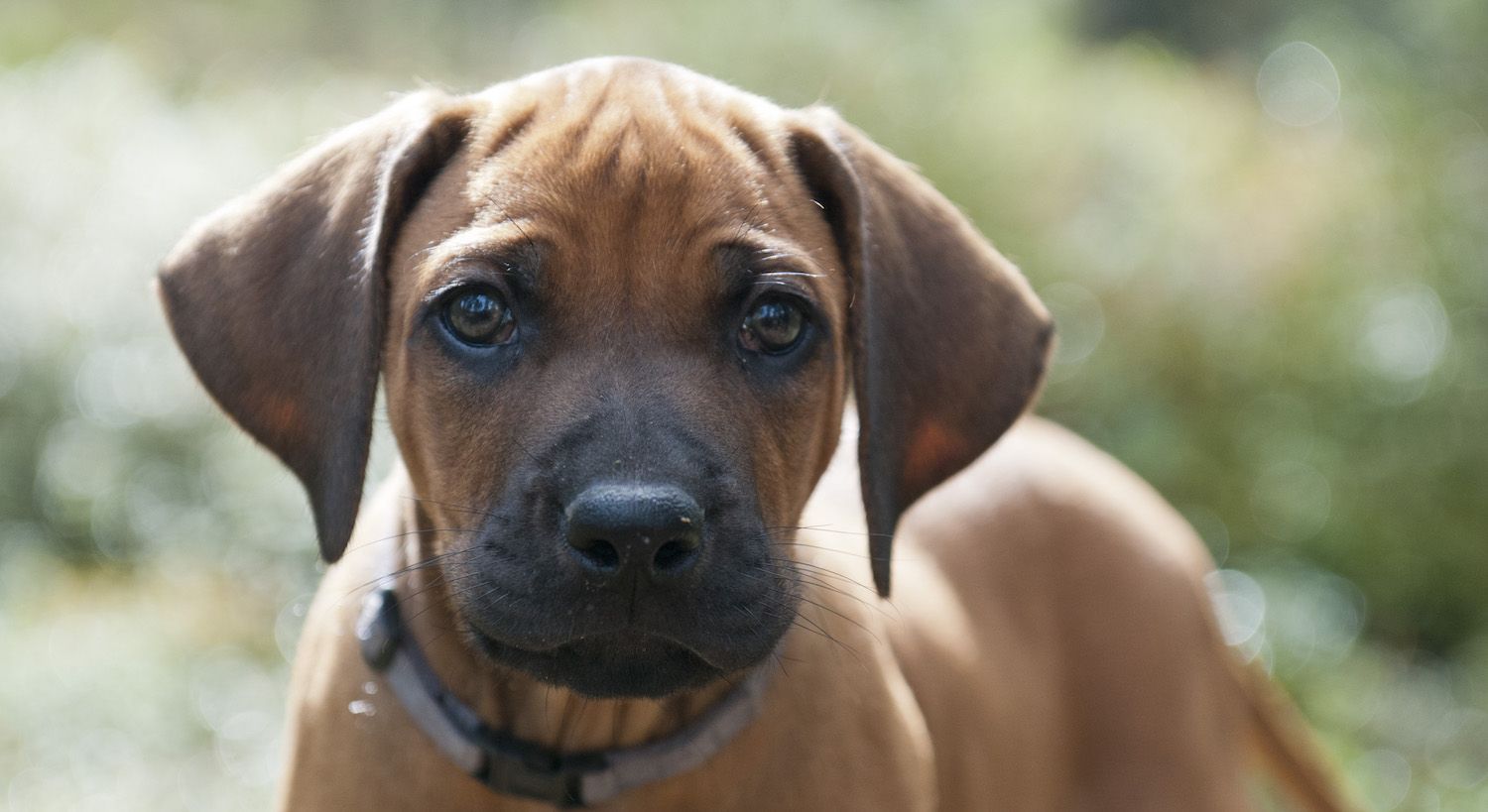 DATA

Breed: Rhodesian Ridgeback

Born: 26/6-2014 † March 16, 2016

Owner: Linn Johannessen and Simen Nyli, Oslo – Norway

DS (neck) operated at 14 months of age.
Height: 68 cm Weight: 42 kg
Hips: A/A Elbows: 0/0
Degenerative Myelopathy – DM: N/N (clear by parentage)
D-locus: D/D (not carrier of the blue diluted gene – clear by parentage)
B-locus: B/B (not carrier of the livernose gene)
Early onset adult deafness – EOAD: clear by parentage (normal)

SHOWS
---
Ted was to good to be true, and way to early the angels decided to take him back.
When Ted was 9 months old, he was diagnosed with Dermoid Sinus in his neck, that was not detected as a pup. There was a little bump that had developed in the tissue of his neck. It was not acute at the time, so operation was scheduled at the Norwegian University of Life Sciences when the surgent had an opening some weeks later. In the meantime Ted was injured in an accident, where he had a complete tendon rupture in his right hind leg. And like a miracle, he recovered completely after 5 months of rehabilitation, thanks to his owners that put so much love and work into rehabilitate him. He was then scheduled for having his DS operation, and the veterinarians removed everything they could. The DS was long and deep, and was attached to the spine. There was a lot of discharge the following weeks after the surgery, but eventually he recovered and has lived life to the fullest for the last 6 months. In the middle of March 2016, he was rushed to the vet, and they suspected meningitis. After CT they discovered that he still had some DS tissue in his spine, which caused a massive liquid leakage around his neck. The prognoses for full recovery despite new surgery was not good, and in agreement with the veterinarians it was decided to let him go.
Ted was an amazing dog in so many ways, and he will be deeply missed by everyone who knew him. Our thoughts goes to his owners Linn and Simen who have lost their best friend. Rest in peace Ted, we will never forget you.
THE RAINBOW BRIDGE
There is a bridge connecting Heaven and Earth.
It is called the Rainbow Bridge because of its many colors.
Just this side of the Rainbow Bridge there is a land
of meadows, hills, and valleys with lush green grass.
When a beloved pet dies, the pet goes to this place.
There is always food and water and warm spring weather.
The old and frail animals are young again.
Those who are maimed are made whole again.
They play all day with each other.
There is only one thing missing.
They are not with their special person who loved them on earth.
So, each day, they run and play until the day comes
when one suddenly stops playing and looks up!
The nose twitches! The ears are up! The eyes are staring!
And this one suddenly runs from the group.
You have been seen, and when you and your special friend meet, you take him or her in
your arms and embrace.
Your face is kissed again and again and again,
and you look once more into the eyes of your trusting pet.
Then you cross the Rainbow Bridge together,
never to again be separated.
---
PEDIGREE
Sire

Hayawani Sekayib Furufuru

ZA CH

Nyaka Yesekani Of Cartouche

US ZA CH

Kimani's Heir to the Throne

US CH

Bandit of Blauvelt

US CH

Kimani's Changamire Jazz

ZA CH

Cartouche Unyana

ZA CH

Shangara Sabhuku

ZA CH

Cartouche Samantha

SE VCH

Hayawani Titilayo Roozani

FINCH ESTCH ESTW-04 BALTW-05

Karoskloof B to Harjaselan

ZA CH

Pronkberg Timba

ZA CH

Nomvuyo Zuru Thandi of Karoskloof

SUCH NUCH

Hayawani Zerafina Moyo

Amukela Mambana Anzu

Saragwe Nozipo Mwingereza

Dam

RLD N

Wayosi A Kind Of Magic

N UCH LP1 LP2 BH NVV-13

Kuzonga's Cheriff

INTCH FINCH NORDCH NV-05

Masithela's Irresistable Chango

INTCH FINCH NORDCH FCH BISS NV-01 NV-02
Ukukhanya Scout The Red Baron

NUCH DKCH NORDV-98 NV-00
Ami Sariba

LP1 LP2 UHP FP RB

Hunting Choirs Issa

INTCH DCHVDH DKCH
Zeus

DKCH NORV96
Ajuz

S N UCH

Tappinskis Peach and Passion

INTCH NORD FIN N S DK EE UCH
Mankoyas Great Gambo

FI V-00 FI UCH WW-00 US CH
Ikimba Shadyridge Okoa

NORD UCH
Mankoya's Claudia

Tappinskis Obax Onaedo

SE UCH NO UCH
Amageba's Ekevu Shangi

SE UCH
Oppigården's Lysa