I spend the weekend in Stockholm, attending SRRS's lecture with Jan Gyllensten about "Our dogs mentality – in everydaylife and breeding" and stayed with Wayosi A Kind Of Magic "MAGGIE", her "big-sister" Ridgebows Nandisa od Zazazela "DISA" and her owner Hanna. See pictures
here
. It was so nice to seeing them again, and Maggie is just the most lovely little girl – and appears just as crazy as I like them to bee! 😉
I also got to meet Maggies friends Hamnuddens Fellow Caesar "CAESAR", Djungelkattens K-Nineridged Keaton "KEATON" and Ridgebows Righteous Ramaya of Navy "MAKEBA". All of them lovely and sound dogs that I believe will have good influence on crazy Maggie! 🙂
Tired Maggie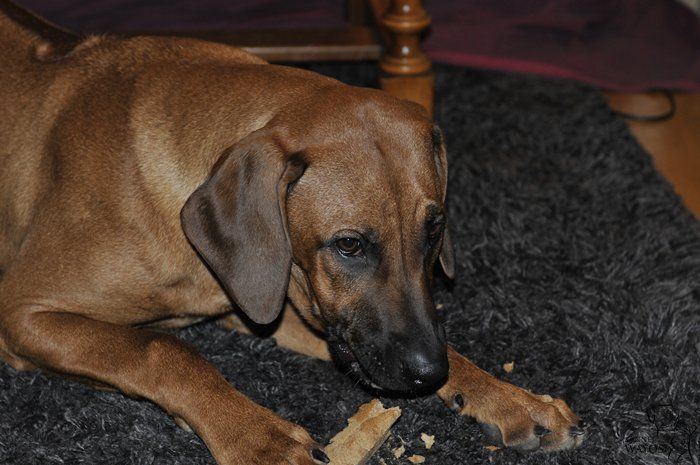 Hungry Maggie
And tired Maggie again..
So tired…
Maggie also want to be tucked in…
just like her "big-sister" Disa.. Actually Disa can't sleep without beeing tucked in! 🙂
Cutie!
Maggie's lovely ridge!
The whole gang out for a walk
Maggie
Maggie
Maggie
Maggie
Maggie
Maggie with her best-friend Caesar.. Or at least Maggie thinks he is her best friend.. Not sure if he thinks the same! 🙂
"Caesar – I love you!"
Poor Ceasar!
Rubber-face-Maggie – just like her parents!
We want what you're have!
Maggie goes for it….
Lovely Caesar
Just learned how to fetch – and loves it!
And of course Maggie is in the middle of all the caos…
Maggie stole Hanna's glove – and ran away with it..
Wohoo! Try to catch me!
Maggies sometimes-best-friend Keaton
Keaton
Big-sis Disa
Cool Disa
Maggie
Cutie Maggie – sitting still for a couple of seconds…
Maggie
"The gang"
Keaton, Caesar, Maggie, Makeba and Disa
And then Maggie couldn't sit still anymore…
And destroys the peace and quite..
"Hi boys, I love you!"
Disa
Half-sisters Disa and Makeba
Caesar
Keaton
Keaton
"Bro's" Keaton and Caesar
Maggie – had to wear the leash for safety measures! 😉
Maggie
Maggie
Maggie
Maggie
Trying to stack Maggie, but she's a little to high at the rear at the moment! 😉
Lovely Keaton!
Djungelkattens K-Nineridged Keaton
Maggie drop-dead-tired, and her eyes are crossed..
It's a hard life when your breeder comes for a visit! 🙂