We spent the weekend at the Swedish National Specialityshow at Gysinge Bruk and had a wonderful time with good friends! Thanx everyone for a wonderful weekend! 🙂
We had some very nice results, and I am so proud of our "babies".
Hektor (Wayosi Anything But Ordinary) had his debut as a show-dog and he behaved beautifully and was maybe the happiest dog on the show. He wagged his tail constantly, giving big hugs and kisses to everyone who wanted one 🙂 He was awarded Excellent 3 in juniorclass, out of 7 entered males. He got the critique: The head is a bit too strong for my taste, could use a little more forechest, the crowns in the ridge are a bit off set, over all good balance, moves well.
Maggie (Wayosi A Kind Of Magic) had her 2nd outing in juniorclass and won the class (11 entered females) with champion quality and ended up as 6th Best Female with res.CAC (of 75 entered females). She got the nice critique: The bitch is not shy, but lacks training. Beautiful head – perfect plains, strong underjaw, the right forechest, I like her angulations in front and rear, good balance overall. I could like a little longer ridge, excellent movements. Thank you dear Ulrika Blom for perfect handling of our princess!
Juba (Wayosi All That Jazz) got Excellent 3 with championquality with the critique: Beautiful head, I'd prefer more depth of the chest, good laid back shoulders, the rear angulation is a bit too much at the moment, correct movements.
Kiwi (Tappinskis Peach And Passion) was entered in championclass (14 entered females) and got Excellent with the critique: Very good head, very nice front assembly, maybe a bit to much forechest, her ridge is a bit too short, moves well.
Sheriff's daughter Nephora (Dahidos Canephora af Hilandra) got Excellent 1 with champion quality in working/hunting-class and ended up as 8th Best Female (of 75 entered females) with the critique: Beautiful head, correct front assembly but her pasterns are a bit to straight, nice rear angulation, moves well, I'd prefer a wider ridge.
So all Sheriff's offsprings at the show got excellent and was placed in their classes 🙂
I also got to show Djungelkattens K-Nineridged Keaton who was awarded Excellent 2 in working/huntingclass with champion quality. His brother Klever won BISS-12, and Keaton is another great-looking male from this litter 🙂
Hektor
Hektor
Hektor
Hektor
Hektor
Hektor
Hektor
Hektor
Hektor
Hektor
Hektor
Hektor
Hektor
Maggie with handler Ulrika
Maggie
Maggie
Maggie
Maggie
Maggie
Maggie
Maggie
Maggie
Maggie
Maggie
Maggie
Maggie
Maggie
Maggie
Juba
Juba
Juba
Juba
Juba
Juba
Juba
Juba
Juba
Juba
Kiwi
Juba, Kiwi and Maggie
Juba, Kiwi and Maggie
Hanna happy for her nice prize! 🙂
Nephora
Nephora
Nephora
Nephora
Nephora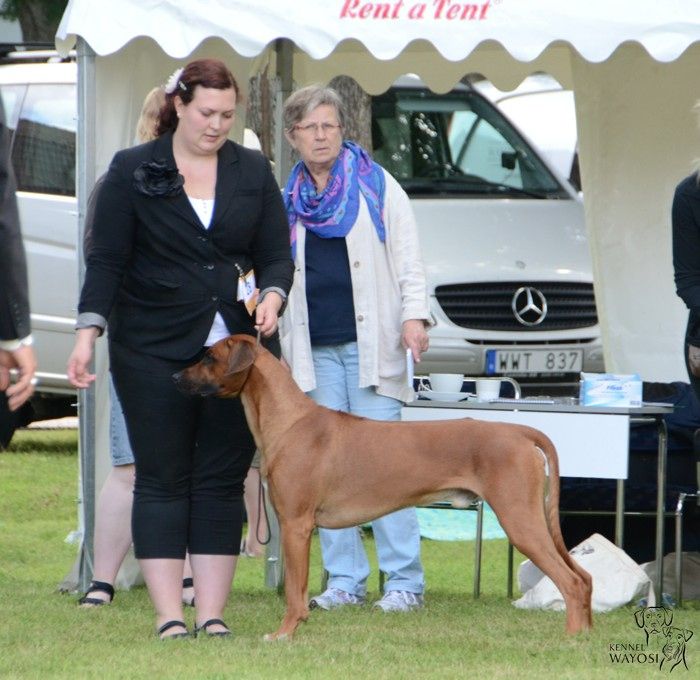 Keaton
Keaton