DAM:
HD: A/A ED: 0/0 LTV0 SP0 VA0
EOAD: clear DM: clear JME: clear
SIRE:
HD: A/A ED: 0/0 OCD:free LTV0 SP0
JME: clear DM: clear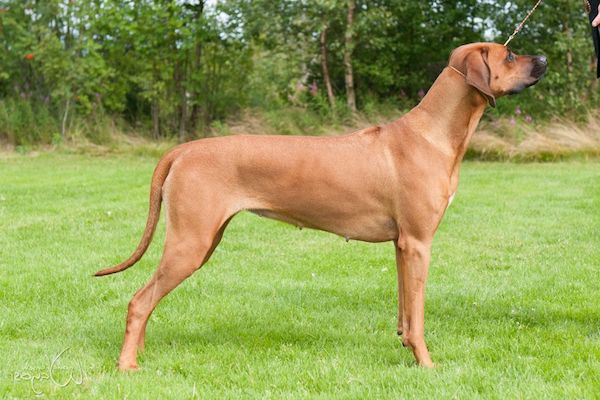 THE PUPPIES
11 puppies born July 20, 2017. 1 stillborn correct black nosed male.
5 males (3 livernoses), 5 females (2 livernoses). 9 (8) correct ridges, 1 multicrown, 1 hidden crown. 1 white sock on leg. No dermoid sinus, no kinked tails.
Name
Sex
HD
ED
Results / Other

Wayosi Gentle Groove ~ RODI
Male

Wayosi Groovy Kind Of Love ~ COOPER
Male
Livernose.

Wayosi Golden Touch ~ MIO
Male
Livernose. White sock left front leg.

Wayosi Good Vibrations ~ GANDI
Male
A/A
0/0
Livernose. Excellent.

Wayosi Go With The Flow ~ GAHILLI
Male

Wayosi Girl Gone Wild ~ VILMA
Female
Livernose.

Wayosi Go Gina ~ GINA
Female
Excellent.

Wayosi Golden Eye ~ BILLIE
Female
Multicrowns.

Wayosi Good Golly Miss Molly ~ NINNI
Female
Livernose.

Wayosi Gold Digger Vastakarva ~ ALMA
Female
Excellent, CQ, CAC.
MENTALITY
MH (dog mentality assessment) or BPH (behaviour and personality test) will be done between 16 and 24 months of age.
HEALTH
Both parents comes from very healthy lines with little known diseases, and with an excellent statistics regarding hip dysplasia and elbow dysplasia.
G-LITTER PEDIGREE
Inbreeding 0% on 5 generations.
Sire

Zurimahali Fumo Red

Amazing Little Shane of Ekongo Kaross

LCH
Shane
Mike
Soroya
Crownwood Tunja
Glenaholm Jolly Jack
Millridge Schumba of Crownwood
ÖCH
Makena

Multi CH
Makao Ngumo Namdi
Crownwood Foegiele
Tsvetik Ritsa Masteritsa
Multi CH
Nikole
Ezop
Trudi
Dam

BH RL1 RL2
Wayosi Chattahoochee

SEUCH SEVCH
Hayawani Sekayib Furufuru

SA CH
Nyaka Yesekani of Cartouche

Kimani's Heir to the Throne
Cartouche Unyana
SE VCH
Hayawani Titilayo Roozani
Karoskloof B to Harjaselan
Hayawani Zerafina Moyo

SEVCH RLDN RLDF LP1
Wayosi A Kind Of Magic

NUCH LP1 LP2 BH NVV-13 NVV-14 RL1
Kuzonga's Cheriff
Masithela's Irresistable Chango
Hunting Choirs Issa

SEUCH NUCH
Tappinskis Peach And Passion

Mankoyas Great Gambo
Tappinskis Obax Onaedo