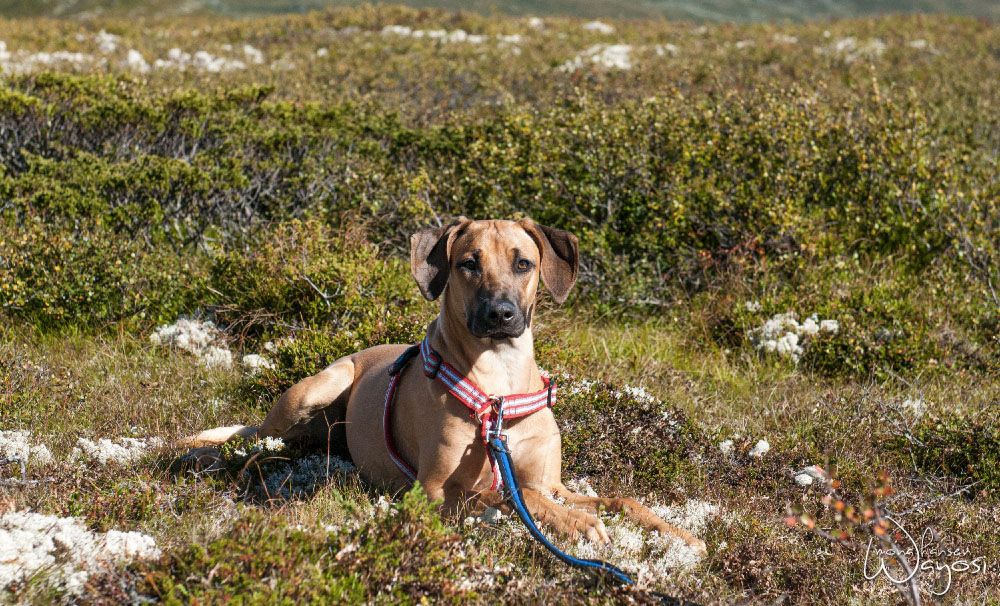 DATA
Breed: Rhodesian Ridgeback
Born: January 15, 2016
Reg.nr:
Owner: Kennel Wayosi and Eva Anette Lund, Sørumsand – Norway
Height: 63 cm Weight: 33 kg
Hips: A/A Elbows: 0/0
LTV (Lumbosacral Transitional Vertebra): TBA
VA (Vertebral Anomaly): TBA
SP (Spondylosis): TBA
Eyes: TBA
Teeth: Full set, correct bite
Ridge: R/r (heterozygote)
Thyroid (TT4, FT4, TSH, TgAA): TBA
DM (Degenerative Myelopathy – SOD1): N/N (clear)
D-locus: TBA
B-locus: B/B (not carrier of the liver nose gene/
EOAD (Early onset adult deafness): N/N (clear)
JME (Juvenile Myoclonic Epilepsy): clear
RR IVA (Rhodesian Ridgeback Inherited Arrhythmia genetic test 2016): Positive (heterozygous)
HUU (Hyperuricosuria): clear
MH (Malignant Hyperthermia): clear
Factor IX Deficiency (Haemophilia B): clear
Factor VII Deficiency: clear
PHOTOS
Adult (album 1)
Working
SHOWS
ACHIEVEMENTS
– 1 x 1.prize rally obedience class 1 (Norway)
MENTALITY
Behavior and personality test (BPH) May 22, 2016. Age 23 months.
BPH protocol
,
video
.
HEALTH
…
PEDIGREE
Sire

N UCH LP1 LP2 BH NVV-13 NVV-14 RL1

INTCH NORD FIN N S DK UCH NV-05-06 NORDV-06 Masithela's Irresistible Chango

INTCH NORDCHN S DK FIN LUX UCH KBHV-03

Ukukhanya Scout The Red Baron (l)

Karoskloof Bayezana Naka

Nomvuyo Tikkun

NCH DKCH NORDV-98 NV- 00

Ami Sariba

Wyndrunhr's Inyangani

Exgate's Heartbreaker Called Punky

LP1 LP2 UHP FP Hunting Choir's Issa

INTCH DCHVDH DKCH

Zeus

Torhusets Peacock Shaman

Kijasaman Chui Nyota

DKCH NORV96

Ajuz

Kitoto Azizi Bakela

Torhusets Sharon Shagreen

Dam

SEVCH

Oppigårdens Hjärter Ess

SEVCH
Oppigårdens Svarta Rudolf
SEVCH
Meester Ridge Ayo
That's Why He Is A'mandla
Meester Ridge Chivindi
SEVCH SEUCH
Oppigården's Nova, CV
Caineabels Red Stanley
Oppigården's Endast Elin, CV
SEVCH
That's Why She Is A Song In My Heart

Makker

That's Why He Is Wa-wa

Dancer

Mzazi's Guinevere
Nashira Exalibur Of Ridgelea
That's Why She Is Wish' Come True