We spent the weekend at SRRS Västra's two-day specialityshow in Vårgårda. We had two super nice days around the ring, meeting and talking with all the nice RR-people! 🙂 Our results was quite nice, with Sheriff's son Diezel topping it by winning a large openclass and placing as 5th best male with res.CAC.
Kuzonga's Cheriff "Sheriff"
Saturday under judge Eddie Patterson
Excellent, Champion Quality
Critique:
6 year old male. Head of correct proportions with good eye. Good neck. Front and rear angulation good, with good forechest, of good ribbing and loin. Ridge and crowns correct. Moved ok, slightly loose in front, but overall excellent.
Sunday under judge Harold Tattro
Excellent 3, Champion Quality
Critique
: Nize sized. 6 year old male. Good fit condition. Balanced, masculine head. Strong, flowing neck. Good angulations front and rear. Nice strong topline and long ridge. Good bend of front pastern. Short hocks. very nice balanced dog overall.
Tappinskis Peach and Passion "Kiwi"
Saturday under judge Cath Davies
Excellent, Champion Quality
Critique:
Livernose bitch with good pigment. Eyes harmonizing with coat color. Elegant neck into good front, good bone and feet. Balanced body. Well muscled hindquarters. Good ridge and crowns. Kept her topline on the move, a little bit erratic in movement.
Sunday under judge Denise Tattro
Excellent 3, Champion Quality
Critique
: Lovely head, very nice ears. Beautiful frontfill. Lovely feet and pasterns, nice ridge, beautifully balanced. Lovely bitch
Thank you Josefine for handling her! 🙂
Damisis Aboisso "Diezel"
(Kuzonga's Cheriff x Hayawani Damisi Sikelele)
Saturday under judge Eddie Patterson
Excellent
Sunday under judge Harold Tattro
Excellent 1, Champion Quality, 5th Best Male, res.CAC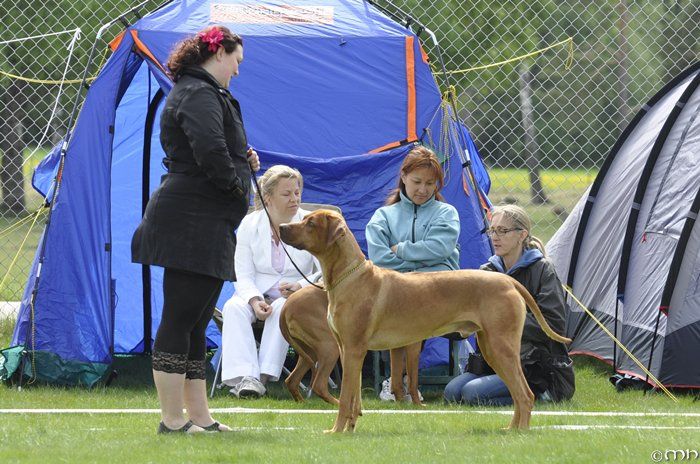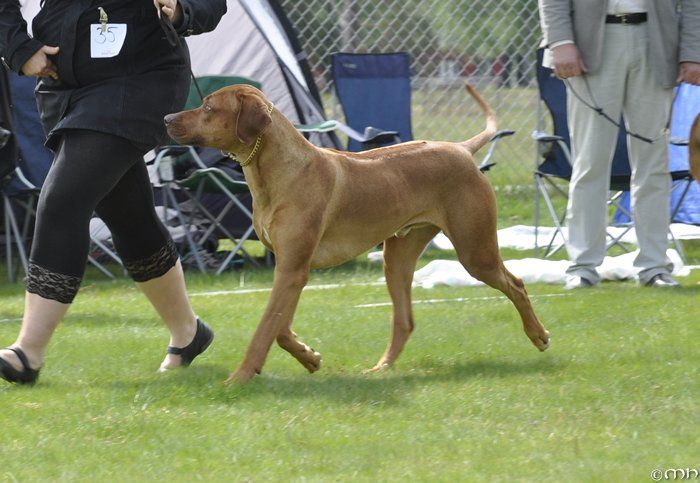 Damisis Ariana "Tiisha"
(Kuzonga's Cheriff x Hayawani Damisi Sikelele)
Saturday under judge Cath Davies
Excellent
Sunday under judge Denise Tattro
Excellent
Kuzonga's Fuga Zhinga "Zhinga"
(Kuzonga's Cirkeline x Minjimba Ridge Ajari by Enzi)
Saturday under judge Cath Davies
Excellent
Sunday under judge Denise Tattro
Very Good